Exploring A Suburban Bathroom Renewal
Today we will be looking into the design and renewal of a master bathroom. This particular home was being prepared for resale. The Master Bathroom, which dated back to the 1990s, was in great need of an upgrade and a facelift. However, the limitations in place were such that the plumbing fixtures could not be swapped out or replaced. Therefore, it was essential to apply various design techniques to help the room feel fresh and new.
Here, we can see the light wood cabinets pop against the beige carpet and the pale countertops. This was achieved with an alcohol-based stain, which helped to give the wood a more rustic look. We can also see the green-tinted decor that shows up well with the other pale colors. The ornate green bottles are a simple and inexpensive touch that helps give the bathroom a little more character. This decor also compliments the olive green hand towels that hang on either side of the large mirror.
From this view, we get a better look at the grand bathtub, as well as the elegant paint on the walls. The purple and sage colors were added to help give the room a classy, calm, feel. Such colors provide a sense of serenity, which is perfect for an area like the bathtub. The lavender also provides a nice contrast for the foliage outside.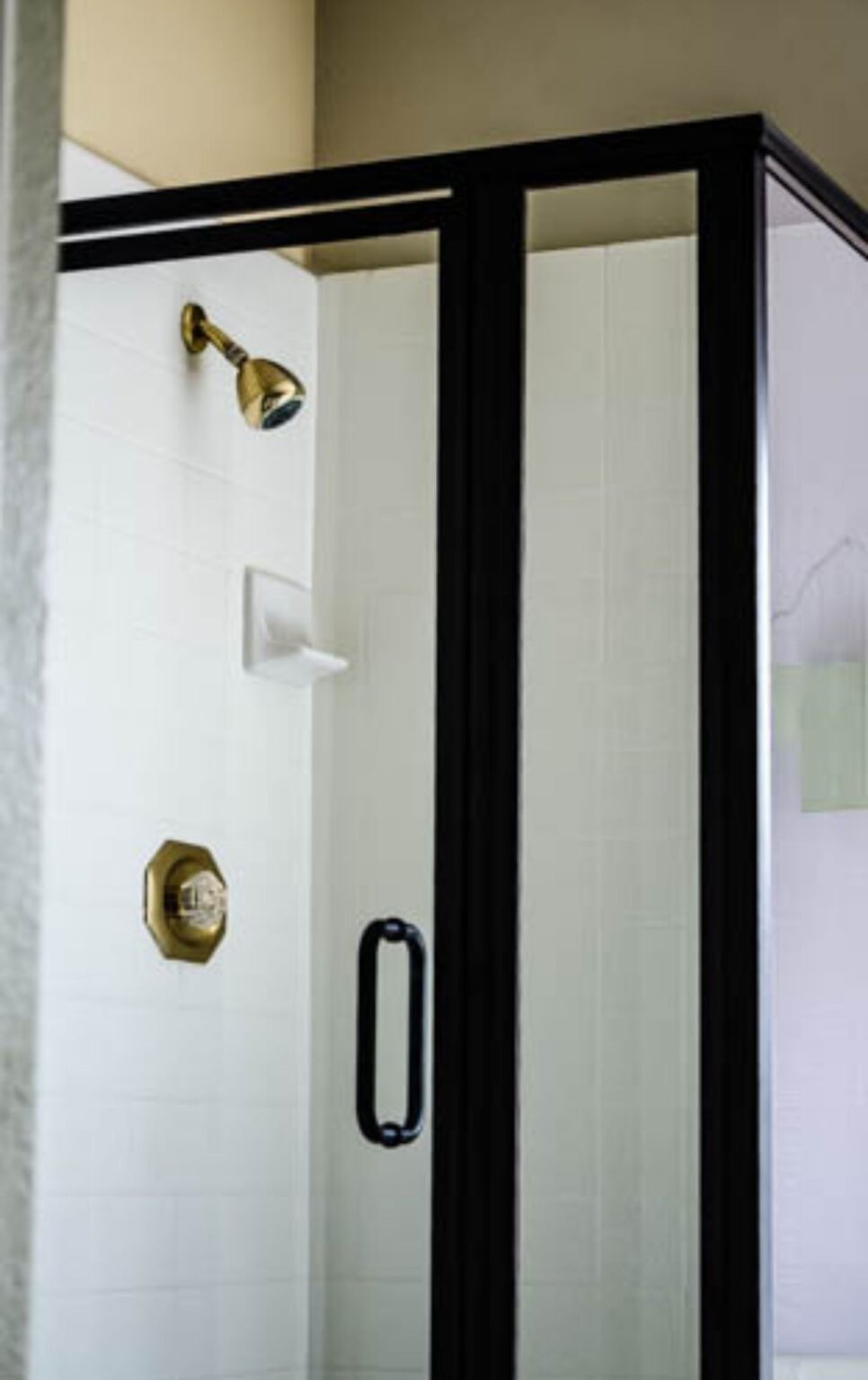 Finally, we get a good look at the shower. The bronze coloring was added to the metals to give it a subtle industrial look. This bronze pops out well against the white tile walls and the black metal frame. All of these colors together help provide the water closet a unique style while still supporting it remain comfortable.
In the case of a room renewal, a few small touches can make all the difference. Here just the additions of decor, some fresh coats of paint, and some new metal coverings gave this room a whole new vibrant look. Despite the limitations of not being able to change the plumbing fixtures, these cosmetic changes helped the bathroom look more modern while still keeping a classic feel.