Ten Best California Living Room Ideas
The living room is the only place in the house where the terminologies of functional, comfortable, stylish, modern yet classic and made for all fits in. The living room needs to look great, but mastering the interior design of living room ideas can be pretty challenging for many designers. If you have recently moved to California or are a native, read this blog to get ten best California living rooms ideas.
The weather largely influences the California-style living room. The warm summers invite cool and calm hues, while people prefer to have warm hues in winters. Of course, with temperature, the interior design varies; hence California is famous for its diverse ideas and modern yet classic living room styles.
 We have rounded the best and most unique projects and instructions as to why Eric Breuer interiors are the ones you should be looking for when thinking of decorating the living room.
Moreover, you will find the most stylish tips and ideas, along with shopping suggestions for any living room space you have.
All the best Interior design living room ideas have one thing in common: textures. Adding various textural elements into the living room gives visitors a tactile experience and creates different viewpoints
.To begin with, you can include textures in walls, floors, rugs, curtains, ceilings, cushions, and furniture. The interior designers of Eric Breuer interiors are versatile and will create a visual appeal to the room. The royal velvet touch, along with other decor layers, will surely bring an aesthetic appeal to the living room.
The California-style interior is on rustic and natural elements. Include seagrass and macrame along with stones to create a unique living room. And for the minimal living rooms, contemporary smooth marbles will look appealing.
You will be amazed to know that Californian Interior design for living rooms is a mix of imperfections that look amazing. The fantastic, weird decorative pieces combined with wall art define the living room and create imperfect lines.
Remember, the layout and configuration of where you place the items is an important decision. You can place an odd-looking lamp beside a hands-down rocking chair. You can also decorate the living room with mismatched lamps. A typical leather sofa with asymmetrical decorative items will add more charm to the living room. There are lots of bad Interior design ideas for the living room that will inspire you to transform the space.
It is essential to think of relaxation. Not everything has to be perfect.
The subdue color palette:
The Southern California interior design style is famous for creating space for better living. Moreover, who doesn't like to play with colors? California is renowned for its subdued color palette, and the taste of people is more tilted towards the light hues that complement well with the weather and the surrounding natural beauty.
When it comes to subduing color, white is the one that has many shades. You can mix it with other neutral shades like cream and beige.
If you want to go a little crazy, you can choose some warm colors, like orange and red. You can also keep some plants to neutralize the warm tones in the living room.
Incorporating original and handmade items into your living room is the next best idea to light up the place. Many Interior design living room ideas come up on this unique concept where you can hang hand-woven baskets and flower vases. For this, jute is the most sought material.
The residential projects in California-style interiors are also famous for their bohemian look. The bohemian originates from the gypsy culture, so you can collect unique items wherever you travel. You can overload the colors and patterns to create that perfect bohemian look.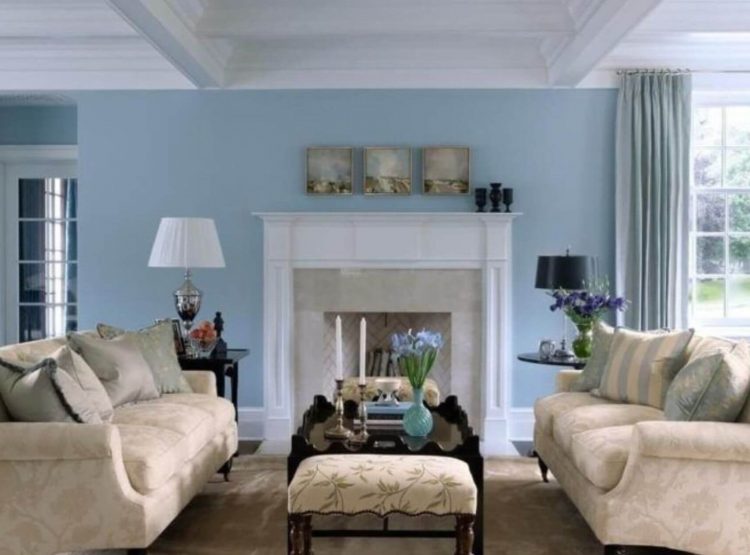 California is famous for many popular beaches, which is what many Interior design for living room trends base on all the time. A coastal-style decorated living room can represent many functions. It transforms a formal space into a casual one that people can enjoy.
Moreover, you can have a beachy feeling during the seasons apart from summer. For this, paint the walls blue and throw a sisal rug as the centerpiece. You can also decorate the living room with conch shells for the coral look. For the final touch, place beachy curtains of blue and white color to complete the sandy look.
There is always one wall in the living room that stands out as the family wall or, in other words, an antique wall. Many California-style living room ideas have vintage wall art or frame adorned on the main wall.
You can add vintage-style flowers and vases to create romantic antique walls. The frames of quotes will add a nice touch to the existing environment. Another option is to add DIY scribbles and stenciled wall art.
The earthy tones will suit your taste if you are not a fan of modern items. The brown and honey tones of a fireplace become the center of attention for all. The gold draperies and espresso-style modern coffee table will balance the room perfectly.
The addition of rich brown chocolate leather furniture will steal the highlights. You can combine different ideas to make the space welcoming.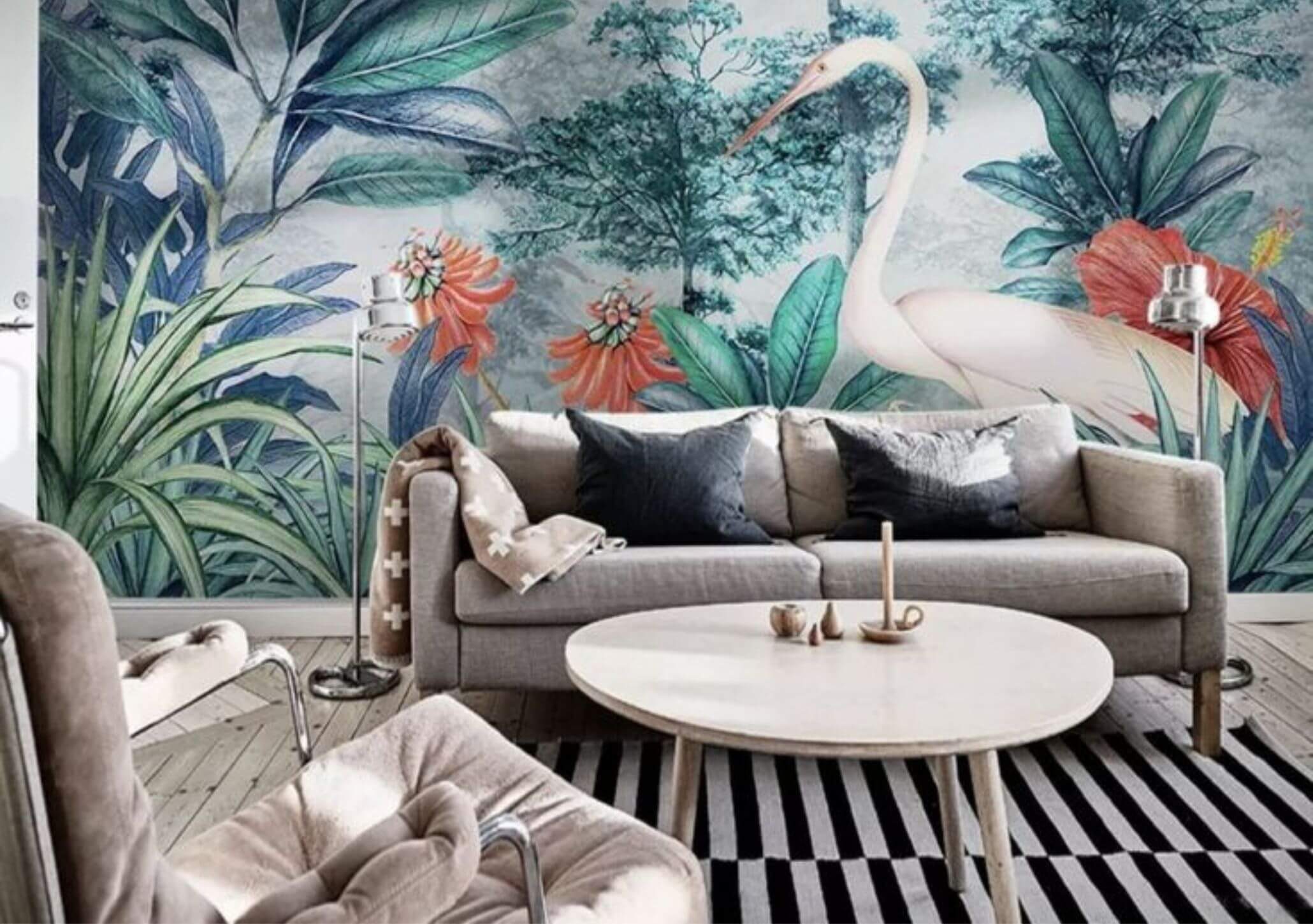 Have you ever thought of incorporating the outdoors into your living room? If not, then now is the time to make the necessary decisions. You can turn a light source such as a balcony into a vast open area and connect it to the living room. Place some pots and plants and let the natural light flow in all the time.
If the space is enough, you can have faux olive trees in a corner. A rainforest-themed wall will feature best as well. Another Interior design for the living room that will look unique is to create open and big windows that peek into a garden. Place some boulders, aloe vera plants, and flower pots to create a serene look.
Entertaining living room:
Creating space for better living is also termed a living room that is rare yet interesting and entertaining. Sounds amazing! Isn't it? The Californian people are fond of watching movies with friends, family and colleagues and what if you can have the same time at your place?
Now you can turn the living room into an entertainment arena by placing a custom motorized screen and a floating home theater. Keep a cocktail rug and have a corner in a bar; you are good to watch Netflix.
Don't forget the material:
No interior design living room idea is complete without the beautiful material used in our living rooms. If you have a dining table, use beautiful linens with traditional embroidery or keep tablecloths and runners made of patchwork.
Empty homes without linens do not attract most people. It gives an eerie feeling; hence throwing linens in various styles will create a true Southern California interior design style.
Renovating or creating a beautiful living room is worth it if you are an aesthetic eye and have appealing thinking. A California-style living room is every person's dream if you are in California. You can pass the same concept to generations and make the elders happy.
Furthermore, California's young and energetic youth has a dire need to do something unique and new, so here is the chance to start from your vicinity.
Residential projects in California are also becoming a good hype in other cities. The people's life and past inspire the Interior design living room ideas, yet keeping in mind the modern look that most people want their homes to portray.
Suppose you want to renovate or refurbish your living room, contact Eric Breuer interiors. We are the best in this field and will create a living room that will become unique and turn heads in each corner.
Our interior designers are well versed in the traditional yet modern styles and will not disappoint you. Our priority is keeping an eye on your ideas and incorporating them into the types.
So give us a call and book an appointment now.
You might also like to read about The Best Ideas for Interior Design Home in California.
You can also read about Interior Designer's Salary in California.